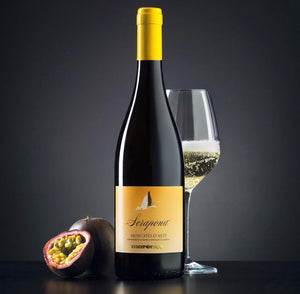 Grapes:
100% Moscato Bianco.
Origin:
Scrapona vineyard in Strevi. Planted in 1996, using the wood from the old vines previously planted here. The soil is mainly sand and marl, with south-west exposure.
Vinification:
The grapes,manually selected and harvested at the beginning of september, are softly pressed and naturally clarifed. The fermentation takes place in pressurezed vat and is interrupted thru fltration when reaching 5,5% alcohol, and a delicate perlage. No sugar is added. Organic Wine.
Tasting notes:
Golden yellow, sweet aromatic with fne, elegant perlage. Intense and persistent nose with hints of, lime, apricot, orange blossom and passion fruit. Flavor is fresh, elegant, and aromatic like the moscato grapes it comes from.
Pairings:
A welcome drink to relax with any time as well as an interesting aperitif paired with tempura, light cheese, spicy foods. Ideal with hazelnut cakes, panettone, fruit salads macaroons and zabaione.
Serving suggestions:
Store the wine in a dry cool dark place, keeping the bottle in vertical position. Before service chill the wine at 8°C. Open and serve in medium balloon glasses.