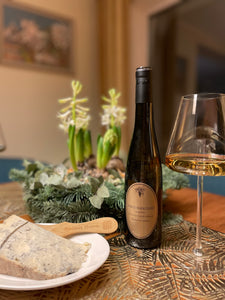 Grape variety:
100% MOSCATO BIANCO DI CANELLI
Production:
The harvest begins in mid-November and continues until the 8th of December, when the grapes that are still on the vines are covered with Noble Rot and have taken on a golden straw yellow colour. The vinification of the must obtained from this frugal harvest is followed by fermentation in small oak barriques (225 litres). This fermentation is controlled over the next three years, with meticulous filtrations, transforming much of the sugar obtained from the over-ripening of the grapes into alcohol, creating LOAZZOLO a sweet - non-sweet wine with a palate that expresses a sincere and open body.
Tasting notes:
Served at a temperature of 10-12 °C in crystal goblets, it pairs well with goose liver, blue cheeses, patisserie, hazelnut cake and zabaione. 
Gastronomic pairings:
Charcuterie, shellfish, molluscs and blue cheeses.