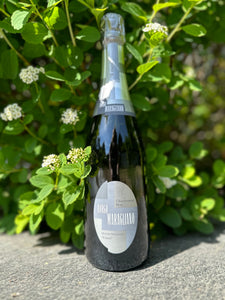 Grape variety:
 100% CHARDONNAY fermentation in stainless steel tanks
Production:
The Chardonnay grapes harvested in the Crevoglio vineyard produce a sparkling wine which undergoes second fermentation in pressurised tanks (Martinotti Method). When the grape harvest is completed in mid-September the base wine is vinified, with a temperature-controlled fermentation process. Dosage takes place right at the beginning of the year after harvest followed by the addition of yeasts for second fermentation (Prise de Mousse). This phase lasts 28 days at a temperature between 17 and 19 °C. Then the product, which is now a sparkling wine, is left in pressurised tanks to mature on the fermentation lees for eight months.
Tasting notes:
The wine's creaminess is apparent even in the glass, with its beautiful foam and fine perlage; the bright straw colour is accompanied by a pleasant and comforting maturity, while the palate is intense, lively and balanced. It is without doubt a very appealing brut which retains the smooth character of the grape variety.
Gastronomic pairings:
Served at a temperature of 10-12 °C it makes an excellent aperitif, also pairing well with fish or cheese, preferably fresh. We suggest trying it with a warm starter of vegetables and puff pastry.